Dental Emergency
A dental emergency can be a scary, unpleasant experience. If you have a broken tooth, a traumatic sports injury, missing crown, or sudden intense pain, waiting two weeks for an appointment is simply not an option.
At Green Dental Care, we will do our best to accommodate our patient's dental emergencies on the same day. please contact our staff of emergency dentists immediately: Our team will find a way to help.
---------------------------------------------------------
Crowns and Bridges are used to rebuild broken or decayed teeth. In addition to strengthening your teeth and improving your overall oral health, crows and bridges improve the appearance of your smile. They can straighten poorly aligned teeth and stop teeth from 'drifting' should you be missing a tooth.

If properly maintained crowns and bridges can last 10 years or more, most last a life time. Proper care includes thorough brushing and flossing, and returning to our office for regular hygiene appointments every six months.

Crowns

Crowns use the existing tooth as a foundation on which to build a real tooth. Usually made of dental porcelain or a metal alloy like gold, dental crowns are cemented to the remaining part of your tooth above your gum line to form a new complete tooth.

Getting your crown takes place over two visits. On your first visit, the damaged parts of your tooth are removed and formed into a suitable supporting structure for the crown to be fixed to. An impression of the newly shaped tooth is taken and is sent to the dental lab for fabrication. We'll make you a temporary crown for you to wear while your permanent crown is being made. On your second visit we will cement the new crown to your tooth, completing your new healthy smile.

Bridges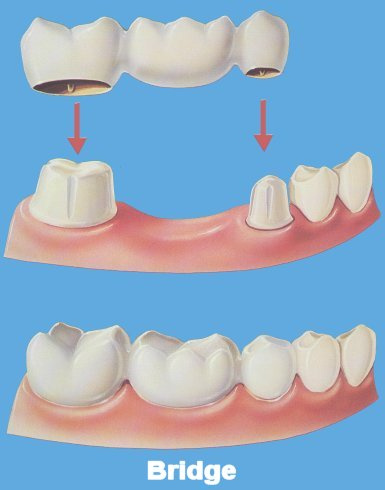 Bridges are used to replace a missing tooth by joining permanently to adjacent teeth or dental implants.
Bridges are made in a process that is similar to that of crowns. An impression is taken of your teeth, highlighting the area of the missing tooth. From that mould, the dental lab will fabricate your new teeth.
-------------------